Unlock Savings from the Comfort of Your Home with Anderson Toyota's Online Service Coupons!
Are you ready to give your vehicle the care it deserves while saving big? At Anderson Toyota, we're excited to introduce our convenient online service coupons that bring you incredible savings right to your fingertips! Whether you're a busy bee or simply prefer the ease of online transactions, our digital service coupons are designed with you in mind.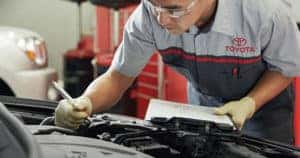 The Benefits of Online Service Coupons
Gone are the days of sifting through newspapers or flyers to find the latest service deals. With Anderson Toyota's online service coupons, you can now access exclusive savings directly from our website. Here's why you should take advantage of this hassle-free opportunity:
1. Convenience: Access our service specials from the comfort of your home, office, or wherever you are. No need to drive around town searching for physical coupons.
2. Instant Savings: Simply browse through our online service coupons, select the ones that suit your needs, and enjoy instant savings during your next visit to our service center.
3. Variety of Offers: From oil changes to tire rotations, brake inspections to fluid replacements, our online service coupons cover a wide range of maintenance needs, ensuring there's something for everyone.
4. Easy Redemption: When you're ready to redeem your chosen service coupon, just show it to our service advisors during your appointment. It's that simple!
 How to Access Our Online Service Coupons
1. Visit Our Website: Navigate to our Service Specials page at (https://www.andersontoyotaaz.com/service/service-specials/) on our website.
2. Browse and Select: Explore the available service coupons and choose the ones that align with your vehicle's needs.
3. Save or Print: You can either save the coupon to your device or print it out to show during your service appointment.
4. Redeem at Your Appointment: When you arrive at our service center, present the coupon to our friendly service advisors, and watch the savings come to life!
Your Vehicle Deserves the Best
At Anderson Toyota, we're dedicated to providing top-notch service for your beloved vehicle. With our online service coupons, taking care of your car has never been more rewarding. So why wait? Explore our service specials today and get ready to experience quality maintenance and exceptional savings, all without leaving the comfort of your space.
Ready to start saving? Visit our  Service Specials page (https://www.andersontoyotaaz.com/service/service-specials/) now and embark on a journey of convenient savings and top-tier vehicle care at Anderson Toyota!
-TJ
More from Anderson Toyota
Thanksgiving brings together family, mouthwatering turkey feasts, and heartfelt gratitude for life's blessings. But did you know there's another tradition that silently complements the cranberry sauce and pumpkin pie? We're delving into the intriguing realm of Thanksgiving car sales in this blog post. Join us as we explore the fascinating connection between Thanksgiving and automotive…

In an ever-evolving automotive landscape, the 2024 Toyota Venza emerges as a distinctive crossover SUV that seamlessly blends style, performance, and sustainability. In this review, we delve into the key attributes that make the Venza an enticing choice for discerning drivers. But before we dive in, take a moment to explore the latest inventory of…

In the world of full-size SUVs, the 2024 Toyota Sequoia stands as a formidable contender, epitomizing the perfect blend of power and luxury. Toyota, known for its commitment to quality and innovation, presents a new chapter in SUV excellence with the latest iteration of the Sequoia. In this comprehensive review, we'll explore the key features…