Unleash Your Savings: Anderson Toyota Lake Havasu City's Labor Day Sale!
Get ready to shift into savings gear because Anderson Toyota Lake Havasu City is gearing up for an exhilarating event this Labor Day weekend! Buckle up and brace yourself for the highly anticipated Labor Day Sale – an event that promises excitement, savings, and an exceptional range of choices! 🚗🎉
📆  Save the Date:  September 2nd – September 5th, 2023
📍 Location:** Anderson Toyota Lake Havasu City Showroom and Online Store
🌟 Highlights: Unbeatable Deals, Extensive Model Lineup, and Personalized Financing Solutions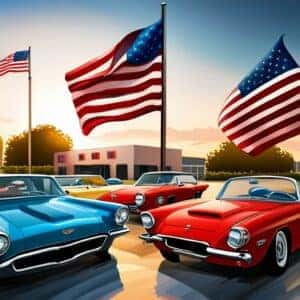 Accelerate Your Savings Journey
As we salute the dedicated workforce that propels our nation's progress, Anderson Toyota Lake Havasu City is thrilled to enhance the celebrations with unbeatable deals. We understand that your vehicle purchase isn't just a transaction – it's a milestone. Our Labor Day Sale is designed to make that milestone unforgettable and budget-friendly.
Discover Your Dream Toyota
Enter our showroom and explore a treasure trove of automotive opportunities that cater to every lifestyle. Picture yourself behind the wheel of the iconic Toyota Camry, seamlessly blending style and efficiency. If you're in the market for a versatile and capable SUV, the Toyota RAV4 is ready to impress. And for those who seek eco-friendly innovation, the Toyota Prius is your ticket to a greener future.
 Unleash Irresistible Discounts
At Anderson Toyota Lake Havasu City, the Labor Day Sale isn't just a sale – it's your passport to unlocking incredible discounts on your dream Toyota. Our team has carefully curated offers that bridge the gap between your aspirations and reality, all while maintaining the quality and excellence Toyota is renowned for.
 Financing Tailored to Your Needs
Curious about financing options? Rely on our experienced finance experts who are committed to designing financing solutions that reflect your financial goals. Whether you're in search of competitive rates, flexible terms, or a package that suits your preferences, we're here to ensure you drive off with both a confident smile and a solid financial plan.
Participating in the Labor Day Sale at Anderson Toyota Lake Havasu City is as effortless as a leisurely drive:
1. In-Person Experience: Swing by our dealership to immerse yourself in the excitement. Our team is poised to welcome you warmly, answer your questions, and guide you through the extensive selection and enticing offers.
2. Virtual Discovery: Unable to visit in person? No problem! Our user-friendly online platform showcases our lineup in all its glory, featuring models like the Camry, RAV4, Prius, and more. Start your purchase journey online and finalize your choice at the dealership.
This Labor Day, seize the chance to hit the road in a brand-new Toyota from Anderson Toyota Lake Havasu City. With unbeatable deals, a diverse lineup, and financing options tailored to your needs, our Labor Day Sale is your ticket to elevating your driving experience. Join us from September 2nd to September 5th, and let's make this Labor Day truly exceptional!
🎉 Dive into the captivating details of our lineup and the upcoming Labor Day Sale at www.andersontoyotaz.com , or give us a call (928) 764-2886.
More from Anderson Toyota
Thanksgiving brings together family, mouthwatering turkey feasts, and heartfelt gratitude for life's blessings. But did you know there's another tradition that silently complements the cranberry sauce and pumpkin pie? We're delving into the intriguing realm of Thanksgiving car sales in this blog post. Join us as we explore the fascinating connection between Thanksgiving and automotive…

In an ever-evolving automotive landscape, the 2024 Toyota Venza emerges as a distinctive crossover SUV that seamlessly blends style, performance, and sustainability. In this review, we delve into the key attributes that make the Venza an enticing choice for discerning drivers. But before we dive in, take a moment to explore the latest inventory of…

In the world of full-size SUVs, the 2024 Toyota Sequoia stands as a formidable contender, epitomizing the perfect blend of power and luxury. Toyota, known for its commitment to quality and innovation, presents a new chapter in SUV excellence with the latest iteration of the Sequoia. In this comprehensive review, we'll explore the key features…