2024 Toyota Grand Highlander review by Caranddriver.com
2024 Toyota Grand Highlander
by Drew Dorian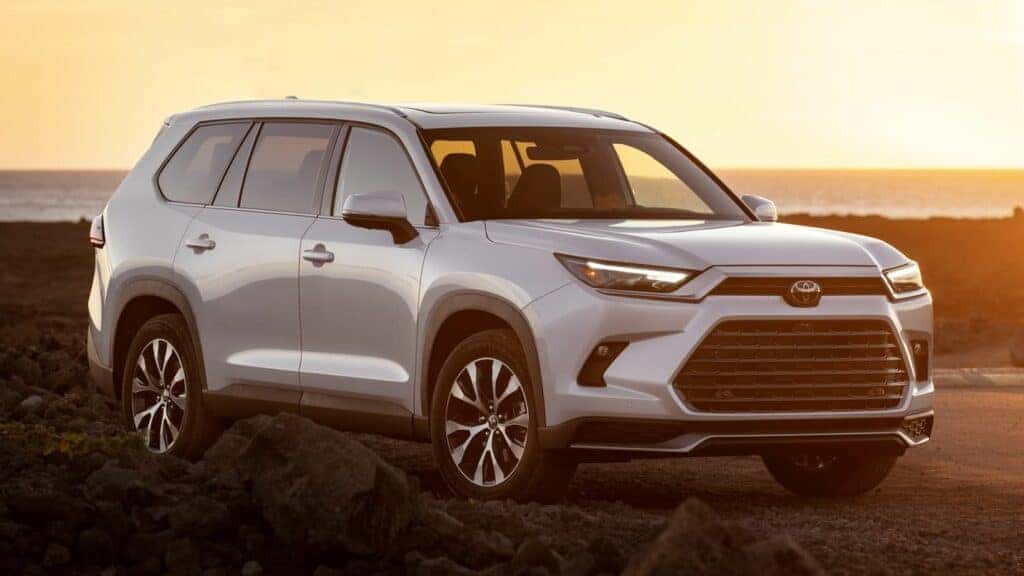 If you're drawn to the Toyota Highlander SUV but feel that it isn't quite big enough for your family, the 2024 Grand Highlander might be the answer you're looking for. It earns its grand naming convention not for its style, features, or luxury appointments, but because it's a stretched version of the current Highlander. The Grand Highlander offers more space for people and cargo inside its elongated body, with most of the stretch going to a roomy third row. Three powertrains are offered, starting with a turbocharged 2.4-liter four-cylinder. Two different hybrid powertrains are also offered, including a 362-hp variant called Hybrid Max. A host of driver-assistance features is standard, and the Grand Highlander is offered only in upscale XLE, Limited, and Platinum trims—so perhaps it is a bit grander in that way after all.
What's New for 2024?
Although it uses the Highlander name, the Grand Highlander is a new addition to the Toyota lineup when it goes on sale sometime in summer 2023.
Pricing and Which One to Buy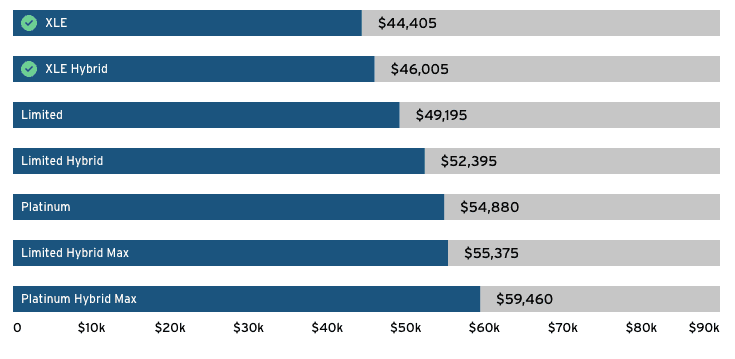 Only three trims are offered on the Grand Highlander, so those hoping for a cheap L or LE trim won't find those options on the list. The entry-level trim is the XLE, a designation typically given to mid-range Toyota models. We think it's the one to go with, as it comes well-equipped with features such as power-adjustable heated front seats, a 12.3-inch infotainment touchscreen, a wireless smartphone charging pad, a power-operated liftgate, and a suite of driver-assistance features.
This content is imported from Third party. You may be able to find the same content in another format, or you may be able to find more information, at their web site.
Engine, Transmission, and Performance
Three different powertrains are offered in the Grand Highlander, including two shared with the regular Highlander model. The standard setup is a 265-hp turbocharged 2.4-liter four-cylinder with either front- or all-wheel drive and an eight-speed automatic transmission. The Grand Highlander Hybrid uses the same hybrid powertrain as the Highlander Hybrid, which combines a 2.5-liter four-cylinder and two electric motors to make a combined 243 horsepower. The top-spec offering will include the Hybrid Max powertrain that pairs the turbocharged 2.4-liter with an electric motor for a net 362 horsepower. Toyota says the Grand Highlander can hit 60 mph in 6.3 seconds and can tow up to 5000 pounds with the Hybrid Max setup. We had a chance to drive the nonhybrid and the Hybrid Max in Hawaii and came away impressed with the latter's quick acceleration and both models' smooth-riding nature. While the Grand Highlander won't raise a driver's pulse on a twisty road, it does serve its purpose well and other than a steering wheel with a too-light feel, it's nicely set up for errand-running, kid-toting, and road-tripping.
-TJ
More from Anderson Toyota
Thanksgiving brings together family, mouthwatering turkey feasts, and heartfelt gratitude for life's blessings. But did you know there's another tradition that silently complements the cranberry sauce and pumpkin pie? We're delving into the intriguing realm of Thanksgiving car sales in this blog post. Join us as we explore the fascinating connection between Thanksgiving and automotive…

In an ever-evolving automotive landscape, the 2024 Toyota Venza emerges as a distinctive crossover SUV that seamlessly blends style, performance, and sustainability. In this review, we delve into the key attributes that make the Venza an enticing choice for discerning drivers. But before we dive in, take a moment to explore the latest inventory of…

In the world of full-size SUVs, the 2024 Toyota Sequoia stands as a formidable contender, epitomizing the perfect blend of power and luxury. Toyota, known for its commitment to quality and innovation, presents a new chapter in SUV excellence with the latest iteration of the Sequoia. In this comprehensive review, we'll explore the key features…