2023 Toyota Tundra Review by Carandriver.com
2023 Toyota Tundra Review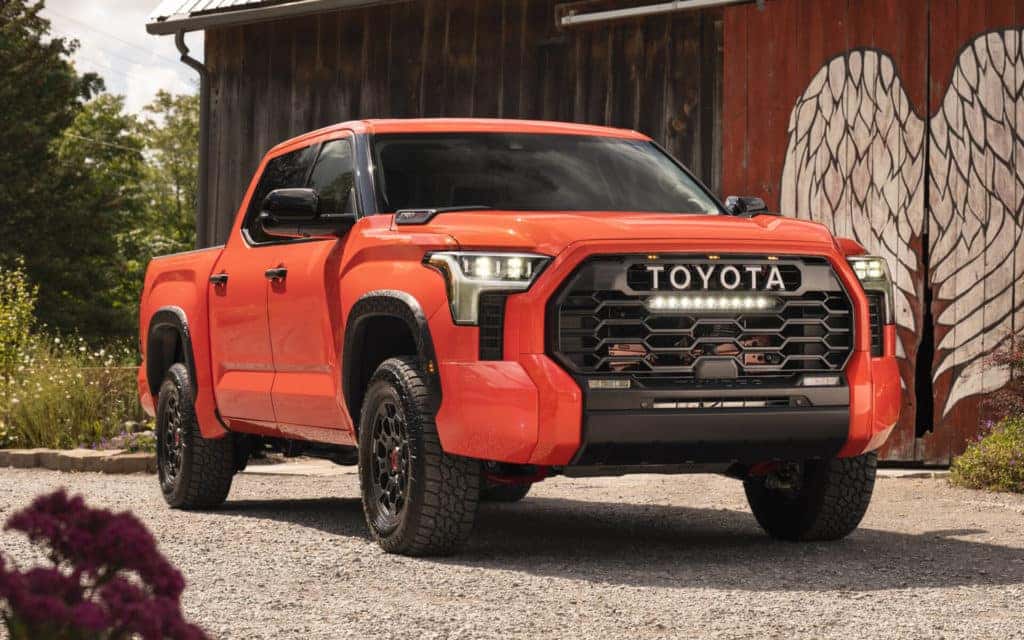 By Austin Irwin and Eric Stafford
When Toyota redesigned its full-size Tundra pickup for 2022 after fourteen years of selling the same basic model, it opted for evolution rather than revolution. It doesn't change the big-pickup status quo though it also doesn't follow the domestic pickup-truck blueprint exactly. For one thing, it's the only full-size pickup in the half-ton segment without an optional V-8 engine. Powered exclusively by a twin-turbocharged V-6, the base version of the engine comes with either 348 or 379 horsepower, depending upon the model, while the more powerful hybridized variant produces 437 horsepower with 583 pound-feet of torque. Every Tundra employs a 10-speed automatic transmission with either rear- or four-wheel drive. Unlike domestic pickups, there's no automatic four-wheel drive system available. The Tundra comes as either an extended- or crew-cab, and offers a 5.5-, 6.5-, or 8.1-ft bed depending on cab size and trim. Its seven tiers of equipment cover the needs of worksite, business, off-road, and suburbia—where a dressy interior is required. This Texas-made truck has a longhorn-sized optional infotainment screen that measures 14.0-inches wide. The 2022 major redesign brought a new coil-spring rear suspension, which gives it a comfortable ride; other trucks that utilize leaf springs bounce and jiggle more.
What's New for 2023?
As the Tundra was just redesigned last year, Toyota keeps its full-size pickup mostly the same for 2023. New this year for the SR5 trims the SX appearance package that adds black and dark gray design elements to the Tundra's exterior and interior trim. The SX package includes dark grey 18-inch wheels, black door handles, body trim, rear bumper middle section, and darkens the rear 4×4 badge. The interior accents are also changed to black, and the Tundra door badges are removed. The SX package can be added to white, silver, gray, or black exterior paint options.
Pricing and Which One to Buy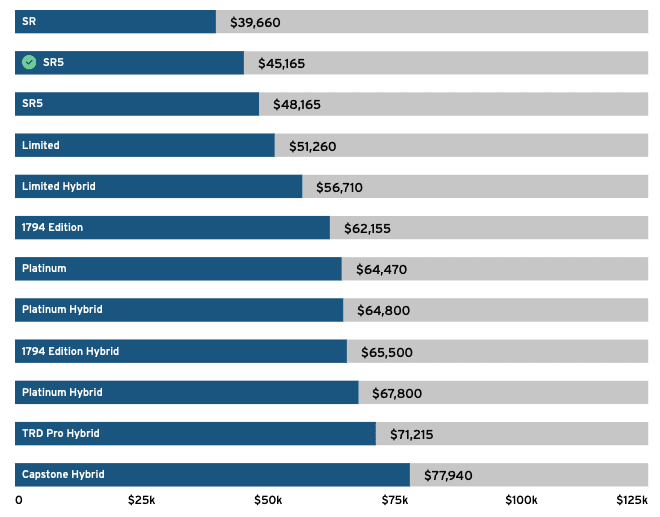 The 2022 Tundra has a higher starting price than its domestic rivals. However, the Toyota's entry-level SR trim has more desirable standard features, including a 379-hp twin-turbo V-6 and a coil-spring rear suspension. (Coil-spring rear suspension is also standard on the Ram 1500.) We think the one to get is the SR5 with the TRD Off-Road package that brings an electronically locking rear differential, unique wheels, upgraded suspension, and other additions.
Engine, Transmission, and Performance
The 2022 Tundra is the only full-size pickup truck that's not available with a V-8 engine. Instead, it's only offered with a twin-turbo V-6 and a 10-speed automatic transmission. This engine comes in three different potencies. On the base SR trim, the nonhybrid engine develops 348 horsepower and 405 pound-feet of torque. Otherwise, it makes 389 horses and 479 pound-feet. At our test track, our non-hybrid Limited test truck delivered a 6.1-second zero-to-60-mph time. The hybrid version features an electric motor integrated into the transmission, which allows pure electric driving at low speeds. The combination generates a combined 437 horses and 583 pound-feet and trimmed the zero-to-60-mph time to just 5.7 seconds. Also changed from its predecessor is the rear suspension, which previously utilized a leaf-spring setup. The Tundra now utilizes a more refined coil-spring rear suspension that improves its ride and handling characteristics. This was evident with the versions we've driven. Toyota continues to offer the popular TRD Off-Road and TRD Sport packages. The former includes an off-road suspension, skid plates, and unique wheels. The latter includes a lowered suspension and 20-inch wheels. Those seeking maximum off-road capabilities will want the TRD Pro, which features a lifted suspension and exclusive dampers as well as a special set of black 18-inch wheels mounted on all-terrain tires.
Towing and Payload Capacity
The Tundra is capable of towing up to 12,000 pounds, which is slightly lower than other full-size trucks. The F-150, for example, can pull up to 14,000 pounds. The Tundra also has a maximum payload capacity of 1940 pounds. Again, several other half-ton pickups can haul more weight in their cargo bed, with the Ford maxing out at 3250 pounds of payload.
Fuel Economy and Real-World MPG
With the nonhybrid powertrain, the two-wheel drive Tundra is rated for up to 20 mpg city and 24 mpg highway; four-wheel drive reduces those figures by 1 mpg each. The hybrid model is rated at up to 20 mpg city and 24 mpg highway. On our 75-mph highway route, which is part of our extensive testing regimen, the hybrid model delivered only 19 mpg. For more information about the Tundra's fuel-economy ratings, visit the EPA website.
Interior, Comfort, and Cargo
Inside, the Tundra has a chunky dashboard that's dotted with prominent air vents and a thick, smooth center section that connects the door panels. The materials used on the center console, dash, and doors are much nicer than what was used in the previous generation. Of course, the quality also increases with the trim levels, with the top-of-the-line 1794 Edition sporting attractive wood accents. All models have a versatile center console with lots of cubby storage and a huge center bin. While a pair of analog gauges and a small driver-information display are the standard instrument panel, the top trim levels have a 12.3-inch digital gauge cluster. The Tundra comes in two body styles with three different cargo-bed lengths. The extended cab (a.k.a. Double Cab) is available with either a 6.5- or 8.1-foot bed. The crew cab (a.k.a. CrewMax) is offered with either a 5.5- or 6.5-foot bed.
Infotainment and Connectivity
Gigantic touchscreens that measure at least 12 inches are now available on almost every full-size pickup truck­–save the Nissan Titan. While an 8.0-inch touchscreen is standard in the Tundra, it can be upgraded with a horizontally oriented 14.0-inch touchscreen that trumps what's offered in all other trucks. It features a useful volume knob as well as wireless Apple CarPlay and Android Auto, but there's no tuning knob and the controls on the steering wheel have limited functionality. A subscription-based Wi-Fi hotspot is also offered.
Safety and Driver-Assistance Features
Every Tundra is stocked with a full complement of driver-assistance technology that includes automatic high-beams, blind-spot monitoring, rear cross-traffic alert, and more.
For more information about the Tundra's crash-test results, visit the National Highway Traffic Safety Administration (NHTSA) and Insurance Institute for Highway Safety (IIHS) websites. Key safety features include:
Standard forward-collision warning and automated emergency braking
Standard lane-departure warning and lane-keeping assist
Standard adaptive cruise control
-TJ