2023 Toyota Sequoia review by Cars.com
2023 Toyota Sequoia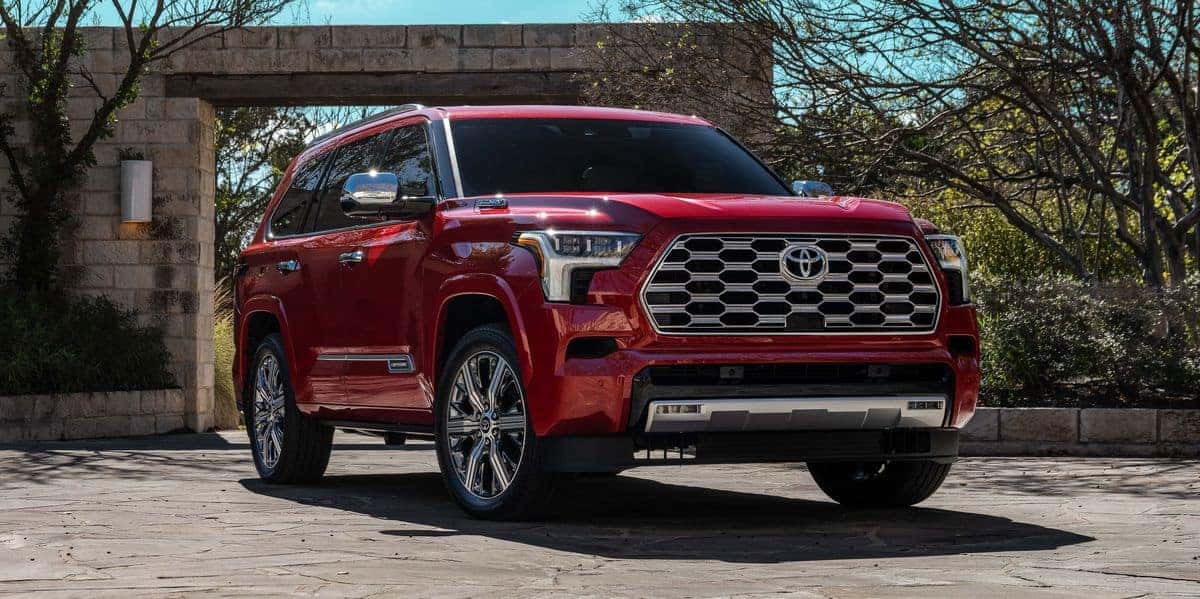 Aaron Bragman
The verdict: Big, bold, and extremely comfortable, the tank-like 2023 Toyota Sequoia is a solid, family-pleasing SUV with a couple of curious quirks.
Versus the competition: It's as big as rivals from Ford and GM, but the Sequoia's hybrid powertrain compromises the two main reasons to own a full-size SUV, resulting in a truck with inferior third-row comfort and cargo space.
The 2023 Toyota Sequoia is new from the ground up — a bigger, flashier, more sophisticated full-size SUV than the one it replaces. It shares its greasy bits with the Toyota Tundra pickup, the Lexus LX full-size luxury SUV and the newest Toyota Land Cruiser, which is no longer sold in the U.S. That means the Sequoia benefits from all the Tundra's and LX's significant improvements, including new, more efficient engines and a far more upscale interior. It sounds like a sure winner on paper, but how does Toyota's big new SUV perform in the real world?
Standing Out in a Crowd
There's no mistaking the new Sequoia for anything but a Toyota, given its close familial resemblance to the new Tundra. It's big, bold and exactly what most full-size SUV buyers want and expect from such a massive ride. It is also, however, very tank-like, inside and out — the beltline is high, with squat windows all around and a low-feeling roof, combined with chunky fenders and a huge grille.
There are five trim levels of the Sequoia, ranging from the base SR5 model up through the Limited, Platinum, TRD Pro, and the top Capstone luxury trim. My test model was a Limited trim with four-wheel drive. It's the second from the bottom in terms of cost but was still loaded with plenty of equipment; it may be the best value in the lineup.
The look will either appeal to you or it won't, but it certainly won't be ignored. Personally, I find it attractive in a futuristic off-roader kind of way — something new in a segment that hasn't seen much truly new style in some time. The most dramatic-looking entries in the category are over at GM, where the latest Chevrolet Tahoe/Suburban and GMC Yukon present more slab-sided, smoothed-out aesthetics. The Ford Expedition still looks largely as it always has, albeit with some aerodynamic changes to its grille and headlights.
Whatever you think of its looks, there's no denying the Sequoia has the moves to be considered one of the best in its class. That starts with the powertrain: a twin-turbocharged 3.5-liter V-6 iForce Max hybrid-electric powertrain that debuted as an upmarket option on the Tundra pickup. It brings 437 horsepower and 583 pounds-feet of torque to the Sequoia — a truly stunning amount of grunt thanks to its electric-motor assist. Power is routed through a 10-speed automatic transmission, destined for the rear wheels on all trims except the TRD Pro, which gets standard 4WD; it's optional on all other trims.
What all this power means is that acceleration is fierce and immediate whenever you call for it, accompanied by a growling rumble that's part real, part piped-in via the audio system. Regardless of the level of audio authenticity, there's no arguing with the results: There's plenty of power for quick passing maneuvers and highway on-ramps, but things feel docile and easygoing if you're just hauling kids to the grocery store, not speedboats to the dock.
The downside of this aggressive powertrain is fuel economy that's not what one would expect from an electrified powertrain. My week testing the Sequoia netted just 15 mpg combined — considerably less than the 4WD version's 19/22/20 mpg city/highway/combined EPA estimate. By comparison, my week with the competing 2022 Expedition Limited Stealth Performance AWD netted 19 mpg — and that truck is powered by a twin-turbocharged 3.5-liter non-hybrid V-6; it's rated 16/22/18 mpg with 4WD. Given how much the Sequoia likes to try and stay in electric mode, I found its underperformance on fuel economy to be surprising.
If gas mileage disappoints, however, the rest of the driving experience does not. The ride is fantastic; it's extremely well-damped and nicely controlled, even on rough and broken pavement. Steering is quite light — rather numb, but that's the standard for any full-size SUV today. It was accurate and unchallenging to use, maintaining tracking on long sweeps and empty interstates without much intervention on my part. The brakes are strong and consistent, and despite decent body roll and pitching in quick maneuvers, the Sequoia simply delivers an excellent driving experience that's likely to please on cross-town commutes as well as eating up miles of interstate.
More surprising is that this excellent control is achieved despite Toyota ditching the last-generation truck's independent rear suspension for a multi-link solid rear axle. It likely helps improve the Sequoia's towing ability and keeps development costs down, but it does require a compromise in cargo room.
Packaging Hits and Misses
When we refer to "packaging," that's automotive-journalist-speak for how the interior is laid out: where the seats are in relation to the doors, the panels, how the seatbacks fold, where storage spaces are located, how the buttons and controls are laid out. In this arena, the Sequoia has some hits and some misses. While it's a massive truck on the outside, that massiveness doesn't seem to translate into interior space. The front seats are big and comfortable, but the dash is high and blocky. The center console is wide and a bit intrusive, and the windshield is squat, giving the interior a tight, bunker-like feeling instead of the cavernous sense one would expect.
The second row has plenty of room, both for hip- and legroom, but the third row does not. Blame, yes, the packaging: The row's nifty sliding function sits atop both a rear axle that raises the cargo floor and the hybrid system's battery pack. That makes space back there quite limited, and it also prevents the seats from folding flat.
That's right, there's no flat cargo floor in the Sequoia, making even a Costco trip rather tricky. Hauling lots of luggage or long objects is also very difficult, and herein lies the Sequoia's biggest drawback — because a full-size SUV that can't accommodate either full-size adults in the third row or even moderate amounts of cargo offers little reason to buy one. It's not a fault from which competing vehicles like the Expedition or Tahoe suffer: Both of these SUVs have independent rear suspensions, allowing for lower seating in the third row, and neither has to contend with a hybrid battery pack. That leaves them fully capable of hauling seven full-size adults, not just five adults, and two children.
Top-Notch Shapes and Materials
If third-row and cargo space aren't that important to you, there's a lot to like in the Sequoia's interior. Differences versus the outgoing model are night and day: Materials quality has made a huge leap forward, with even the lower-spec Limited I drove impressing with sharp-looking textures, high-quality leather, and solid-feeling buttons and switches. There are some real differences between trim levels, as well; things get progressively nicer as you go up the lineup, culminating in the opulent Capstone edition, which sports real wood trim. Given the Sequoia is something of a premium product, it starts with nicer bits than the Tundra pickup upon which it's based, and it shows.
There are, however, still some questionable elements, starting with the digital gauge cluster. It's packed full of various readouts, gauges and meters, but it's confoundingly dim — especially in bright sunlight. The Expedition's digital gauge cluster is comparably big, bright and super easy to read, suffering from none of the Toyota's squint-inducing characteristics.
All Sequoias get a touchscreen in the center console: an 8-inch system in the base SR5 trim and a massive 14-inch unit in all other trims. (The larger screen is optional on the SR5 and worth the upgrade.) The 14-inch Toyota Audio Multimedia system is a damn sight better than the old Toyota Entune system, with clear graphics, bright displays, and a lot more functionality. But it's still a bit wonky to use, lacking a home screen that displays multiple functions. This means you can only see one function at a time on a massive screen — and even then, there's not much that's visually interesting unless you're in the navigation screen.
The system is also cloud-based, meaning you'll need a data connection in order for it all to work properly. It might be brand-new to Toyota, but the new multimedia system feels like it lags behind the best systems out there from Ford, Jeep, and Hyundai/Kia.
Including, it would seem, full-size SUVs. The new 2023 Sequoia starts a tick under $60K, coming in at $59,895 including the destination fee. That's a jump of nearly $8,000 from the starting price of a 2022 model — a hefty increase indeed. My test vehicle, a Limited 4×4 with a premium JBL audio system and a few other options, came to just a bit less than $72,000. That's a hefty sum for any vehicle without a luxury badge, but it's not out of line with full-size SUVs from Ford, Chevrolet, GMC, Jeep, and Nissan. Suffice it to say, if this is the kind of vehicle you want and need, sticker shock isn't likely to put you off acquiring one. It goes with the territory these days.
In the end, the new 2023 Sequoia is a massive improvement over the old one, boasting more space, more features, more power, more abilities — more of everything Sequoia owners of old will enjoy. But, like the old Sequoia, there are a few fumbles in the design and packaging of the SUV that prevent it from being a best-in-class offering. If its foibles don't matter to you, the Sequoia is a top-notch choice.
-TJ
More from Anderson Toyota

Thanksgiving brings together family, mouthwatering turkey feasts, and heartfelt gratitude for life's blessings. But did you know there's another tradition that silently complements the cranberry sauce and pumpkin pie? We're delving into the intriguing realm of Thanksgiving car sales in this blog post. Join us as we explore the fascinating connection between Thanksgiving and automotive…

In an ever-evolving automotive landscape, the 2024 Toyota Venza emerges as a distinctive crossover SUV that seamlessly blends style, performance, and sustainability. In this review, we delve into the key attributes that make the Venza an enticing choice for discerning drivers. But before we dive in, take a moment to explore the latest inventory of…

In the world of full-size SUVs, the 2024 Toyota Sequoia stands as a formidable contender, epitomizing the perfect blend of power and luxury. Toyota, known for its commitment to quality and innovation, presents a new chapter in SUV excellence with the latest iteration of the Sequoia. In this comprehensive review, we'll explore the key features…