Customer Testimonials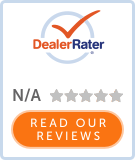 Great experience. First time buyer. Highly recommend.
Jennifer C is always so helpful and knowledge of my vehicle is greatly appreciated !
Went beyond what they had too, very friendly and professional. I felt I was an important customer there. We will be back.
On 11/28 took my car for scheduled xup and oil change. I was treated very professionally and courteously, I was done in less than an hour + my car was washed. I was very satisfied.
Very good service. Professional and courteous staff.
Super nice people! Glad they have charging stations for the waiting game
Very courteous, answered all our questions, and gave me a deal I was happy with to buy my new Tacoma.
We recently purchased a vehicle through Anderson Toyota and Robert Ross helped us out. Very professional and personable. Highly recommend.
(Translated by Google) Excellent service, honest workers who offer fair treatment and the entire purchasing process is very easy. (Original) Excelente servicio, trabajadores honestos que ofrecen un trato justo y muy fácil todo el trámite de compra.
Great customer service and take excellent care of my car
Kalen, John, and Rosie were an incredible team. They made my virtual car buying experience a breeze. They communicated well, were transparent, and addressed all my concerns with speed and honesty!
Great service from start to finish! Highly recommend to anyone who is looking to have a first class, no hassle car buying experience. Darrin and Mike Stauffer in sales were an absolute pleasure working with!
Jose kept me informed of the process and explained what was needed or could wait. Always the staff is great and the place was cleaned.
Sarah and Kevin are amazing and helped my fiancé and I both get our dream cars this last month. Thank you for being so friendly and helpful.
This was hands down the best vehicle buying experience of my whole life! I had the pleasure of mostly working with Jay who is just a wonderful person. Every single person I got to interact with were just awesome from start to finish. They pushed my vehicle to get it done and ready for me and even delivered it nearly 4 hours complimentary for me because of my work schedule. Then even stuck around a couple more hours to help with a factory defect issue on a tire which they happily got me serviced instantly. (Again they were 4 hours from their ...
Brian's and all at Anderson Toyota were very helpful while purchasing my 22 Toyota. Thanks for all the extra attention and advice. Gary and Linda Leuzinger
José Chávez helped me today and I just want to thank him he explained to me some issues my car has, always keeping me updated on my car and since I always wait in the lobby he makes sure I am feeling comfortable so makes the whole process easy for me ! Once again thank you !
Staff is friendly and helpful. There was a delay in getting my vehicle to the dealer - needed better expediting between trucking company and dealer.
Service took a little long time wise. 2&1/2 hrs. But very busy morning as most Mondays are. Ken , my service writer was great, kept me informed, and is getting me a quote for other services needed under employees pricing as I work at AZ West. All in all, great experience
Sarah and Keith were fabulous to work with. They were able to get me the vehicle I was looking for and took the time to explain everything to me.
The best car buying experience by far! I drove 2 hours to buy my dream vehicle, This team was the BEST! Kalen, Sarah, John & Shannon… THANK YOU!!!
Definitely the best experiences I've had when buying a car—Markayla and KJ were super transparent, helpful, patient and kind!! 10/10
Wade was awesome! I was 45min late to my maintenance appointment but he was still able to accommodate me. It was a huge relief because we are visiting from Vegas and the maintenance required light came on while we were en route, thanks again Anderson Toyota!
Very nice customer service and nice waiting area!
Excellent customer service. Tom and Kenny were Awesome
Professional staff, outstanding service, exceptional customer care. Second to none! Thank you Anderson Toyota!
Great dealership to buy from. We came from Texas to buy a car and they made the whole process seamless. Our salesman Tom was great, and Jamil was a blast. Car was perfect. Would highly recommend.
Everyone was very helpful, professional and polite, making the whole experience go smoothly.
Well they did do a great job with the alignment and replacement of the tires but it says that SRS air bags have a malfunction and i need to see my local dealership I figured that they would have fixed that issue but it still needs to be fixed because it still says that in the dash. I guess I should have been more specific about that particular issue and I guess I'll just have to take it back into the dealership to get that fixed
Very accommodating and kind. Helped me determine the next steps I needed to take as I do not drive a Toyota and needed further assistance with my vehicle. The fact that Mike and his team gave me the time of day, took the time to help me and not turn me away, was absolutely incredible customer service from start to finish. Thank you to Mike and your team!
I was referred by son & daughter-in-law, Anderson Toyota, Lake Havasu City, Az. and Todd, having dealt with him many times for their purchases. I browsed the site on internet just looking. I found a couple of vehicles that I liked, but I live in Kingman, Az. My family was at the dealership on the following day, saw Todd and discussed what I was looking at. I drove over to LHC within a couple of hours. Todd is the only salesperson that I have dealt with who is a great salesperson. I really like my vehicle and Todd. Thank you ❤️
Always get my vehicles in on time and do what's needed. This last visit on the new 4 Runner, l'd requested the tech (Amy whom l talked to) to check a dark spot in the left head light, for which they didn't look at. I may need to bring back if it gets more annoying!
Friendly reliable quick service. In and out in no time. They keep my car in top running order.
Sarah was amazing… very helpful and funny.
Very nice experience with Jericho & Keith the manager. I highly recommend to anyone looking to buy a new Toyota.
I was in Lake Havasu when my maintenance required light came on I was able to drive up and get my service done right away. It was done sooner than estimated and they washed it for me. I'm very happy with my service.
Friendly service and informative sales team. They jumped right in to help me find exactly what I was looking for with no pressure. Thank you for your great service!
The service department has very knowledgeable service writers they explain everything that they do they answer questions I took my truck in because the tire light was on and my service representative that was helping kept me informed he all so let me know that there was new recall on my truck I told I had not received a notice as of yet he said no problem we will take of it they our overall a great service department
Service center is so on it and everyone is so nice and helpful.
Jose Chavez was awesome. He kept me informed of the progress and did everything he could to help me with my car
Moved here from VA and found this gem in Lake Havasu. The sales team and manager are awesome. They talk about being there to service the customers and they haven't disappointed. Looking forward to visiting for vehicle services! Already recommended to co-workers that also moved from out of state.
Kenny is an excellent service advisor the work was done professionally and on time I really appreciate it.
Super easy process and extremely helpful salespeople!
Jose is very helpful and keeps you up-to-date with your car.
Jennifer in your serv center was amazing
The service was great like always. Mike is very helpful. The shuttle service was quick and very friendly.
Always friendly, professional, giving good advice.
The salesman was very friendly, helpful, respectful and knowledgeable about my new Toyota 4 runner. Actually every employee I encountered, the general manager, parts person and cashiers were very friendly and helpful. There is a positive atmosphere. My experience has been extremely easy and I highly recommend Anderson Toyota.
No high pressure sales person, Jericho knew every detail of operation of the vehicles - this is the 2nd car we purchased from them .
JERICHO WAS A PLEASURE TO DEAL WITH AND I RECOMMEND HIGHLY GARY
Always friendly and professional
I can not say enough positive things about this company and Jennifer in particular. We found ourselves having to deal with our granddaughter's broken down car from thousands of miles away. Jennifer was a gem to work with and took all off the stress out of a very stressful situation. I would give more stars if I could!
Friendly staff. Seema is very sweet.
I had great service from Jen today Thank you
Always great service and friendly people working at dealership.
Jose was excellent and I'm very happy
As always, top notch. Joes, my service guy, he's the best. Knowledgeable and thorough if I wasn't retired, I would hire him.
Excellent service from wonderful, thoughtful and professional staff
Yes, will definitely buy a car from here if I need to again. Very friendly and helpful team. They went beyond and above to meet our needs. Thank you
Very helpful and outgoing to make vehicle purchase less stressful
I had Jasmine as a sales person I feel I really lucked out as she very personable and was able to answer all my questions. I actually stopped to look at your vehicles and had thought I would check other dealerships before making a final decision. Jasmine picked the perfect vehicle and colt for me with just minimal questions. So far I'm very pleased. Thank You
I have loved going to Anderson Toyota since 2015. Would not go anywhere else! Just got new 2024 sequoia limited ! This is my 2nd new car buy from them
We love jay johnson he is awesome
Excellent customer aervice assistance. Seema was great in explaiming the work that was done and that which is needed in the near future. When my car was ready, I drove away and quickly ealized my car was shimmering and not driving the way it did earlier when I dove in for inspection. It concerned me that the technician left a hose loose after inspecting under the hood, and did not properly secure it. This should not happen. Hopefully I was vigilant and did not get on the highway. Otherwise I'm a happy camper with service at Anderson Toyota. Thank ...
Excellent service very professional took good care of my car
Wonderful experience, great people, will continue to go there.
Very professional service by all of sales and F&I staff
Jennifer was a pleasure to work with. Extremely prompt with responses to my questions regarding work on my vehicle. She made the whole process painless and will be only working with her in the future.
---