Customer Testimonials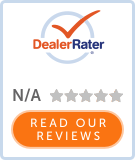 Five star customer service, engagement, commitment, honesty and beyonding. Took my Benz here late Saturday afternoon because my check engine light came on and the engine started shaking on my way to Walmart. From the second I arrived I was greeted and helped. As soon as I was processed, which was quick, Lacey contacted me. She kept me up to date and answered all my questions and concerns. On Monday after the technician finished the diagnostics Lacey contacted me and, talk about honest... she said they couldn't find anything wrong and said we could replace the coils to see ...
Always a good experience at Anderson Toyota
This is the second car I have purchased at Anderson Toyota. And I can't say enough good things about all of my experiences . Kalen is absolutely phenomenal and took such good care of me and got me into my dream car ! She is absolutely the best at what she does and such an asset to Toyota! Thank you to Keith as well !!!
Good work Timely done Good employees Good product Honest
After a little struggle and 2 days of my time I feel like I got what I wanted. I love my new car. The only suggestion I'd give is BE HONEST from the beginning. All the haggling is completely unnecessary and quite exhausting. If that wasn't a factor I would have given a 5 star.
I'll definitely return because of the friendly & professional service Lacey provided.
This place is awesome, waiting area has corn hole, ice cream, snacks and drinks
I arrived for my appointment and there were quite a few cars ahead of mine for it's first oil change. A kind service person greeted me quickly and took me inside . He then introduced me to my service coordinator. She made me at hone. After settling at a table she sent me a text telling me if I needed anything h just to let her know.
Great service from start to finish nice girls 👍😃
I had a part recall on my 4runner, I called and talked to Jose about it, he told me to bring it in to fix it, they did and washed it too, BRAVO!!!!
Was in a car accident unexpectedly, and had a complete loss to my car! Was worried about getting a new car as I wait for the process of my car being paid off, and all that. We went into Anderson Toyota and from the moment we got there, we had nothing but exceptional customer service. Enrique and Steward were so amazing, helpful and so upfront. Told them both my situation and they made it work beyond my expectations! Not only did I get one car, but was able to get two! That's how business is done. Will send anyone ...
Love you guys for help keeping the cost down on my beloved 2003 Toyota Highlander. Together we'll keep it running another 20 years.
Anderson Toyota was on time and on budget with our 2021 Highlander hitch receiver project. Their CSR's were polite and helpful. Based on this experience, I would highly recommend them.
Very friendly, professional people. Would recommend 🙂
This was my first time using Anderson Toyota for service and the experience was first class. My service tech, Jennifer, was professional and friendly. She answered all my questions about my vehicle's needs and made me feel right at home. She even offered me a complimentary car wash. Nice! I was given a ride home in the dealer's shuttle and they even picked me up when my vehicle was ready. The super team of Bonnie and Danielle were my driver and co-pilot of the shuttle and they were great. Thanks Anderson Toyota! You have a great team!
Super easy car buying experience! Special thanks to Brandon Reed and Jamil who made it painless! I love my new Corolla!
Anderson Toyota in Lake Havasu simply does it right. Great customer service (thanks Jose), comfortable guest area, snacks, beverages, game room or privacy with power/charge stations. *Other locations should take note. Great team work here! Thanks all.
Always the friendliest and all around best when I visit.
Toyota tinted my vehicle. amazing staff and they delivered on time!
Very fast courteous people and helpful. Great communication from the Team especially Lacey. I'm glad I didn't go to any Toyota dealership when I got the chance. I will recommend to my family & friends. Great Job!
Mike was super helpful and made everything from start to finish an easy and smooth chore today! Thank you
Experience was quick and super easy!
Great fast and friendly service! And the cost was less than initially quoted.
Did a wonderful job every thing is working fine
Great service. nice people
Great,quick service!Lacey was very friendly and informative!
Great service personnel!! Kyle is very knowledgeable and helpful
Serviced my 2021 Tundra. 5 Stars!! Professional, polite, attentive, clean facilities and on time.
Everyone was very helpful. It made shopping for a new/used vehicle enjoyable.
Always a pleasure dealing with Mike Busby. Prompt and efficient service .
Excellent Service Department!!! Service writer Jennifer is the best!!! Professional, helpful and knows what EXCELLENT customer service is all about. We've bought a few cars from this dealership and we continue to go back because of the service, & sales department...... Thanks Jennifer for always looking out and taking care of all our Service needs... John P.
I arrived just a little early for my service appointment, was greeted quickly. The attendant was efficient and pleasant. They processed my car even faster than I expected! Well done!
Great service friendly staff, thanks Anderson Toyota
Excellent Customer service!
Excellent customer services
THE BEST BUYING EXPEREINCE OF MY LIFE !!!!!!!!! LOVE THOSE GUYS !!!
Love these guys/girls. They treat me like I'm gold.They go over and beyond to keep my wheels going. Service is always outstanding.
I got to my 9:30 Appointment today and I was greeted with a smile and GoodMorning, they pointed me in the direction I needed and very Courteous, my Fuel Pump needed seeing to, they took care of me from the moment I arrived and left, my car was nice and Clean inside and Outside too, 100% Satisfied with Toyota, Well Done to everyone, you made my day So Happy, can't wait to go back again ,
Mark Bohannon was wonderful to work! Made buying easy with no anxiety! Thank you Anderson Toyota!
excellent technical and cost effective service. good explanations of the results.
Couldn't ask for a better dealership and garage.
Wish all Toyota dealers were half as good as Anderson dealing with customers
Our experience with Anderson Toyota was awesome, great people to deal with, professional and courteous. Thanks to everyone involved for making this a stress free buying experience. Also want to thank Jamil in sales for answering all of our concerns about vehicle, he was a pleasure to deal with. I highly recommend this dealership.
All the service people are nice had my oil changed they did it real quick and wash my truck I'm definitely using them from now on for all my services
Very nice customer service!
Jennifer checked me in promptly at 7:30 AM. She directed me to Jose in the office who finished up with my brief check in for routine maintenance on my Toyota Tacoma. They were very professional and friendly! I will certainly return for routine maintenance and any other issues regarding my new truck. Thank you Anderson Toyota!
Never had a bad experience when I've brought my car in for anything. From start to finish I've always been treated very well. Jose and/or Lacey always makes sure I'm taken care of properly. Both of them are absolutely amazing.
---