Customer Testimonials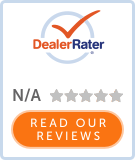 Seema was amazing. Informative & knowledgeable. Pleasure to work with. Quick service. Highly recommend.
Great service and quality workmanship for a fair cost.
Excellent customer service for the whole group. Easiest major purchase ever!
Great place, wonderful staff,outstanding service! Could not be more pleased.
Told the guy at drop off, body plugs were never installed and they were on console. They weren't installed. I had to send the car back to get them installed. I miss the free car wash. Guys in the office were real nice and very professional
Have always had good, professional service. Service techs are great!
Wade Dewett was my service advisor, he was excellent! My only complaint was that I had to wait 3 hours before the service of my vehicle was completed but, that's ok, I went prepared with a book to read and a snack! Also, Wade kept me informed re the progress of my vehicle repairs, that really helped! Merry Christmas to Wade n Anderson Toyota!
Kalen and John were awesome! Had an easy transition with paperwork and getting my new Highlander. Thank you!
Fast and easy and always willing to get you in at your convenience. Jose is great, kind and respectful. Thank you Jose
Asked a few questions and pulled up a few choices, test drove and signing within 2.5 hours!
Thanks to all the people at Anderson Toyota it was a professional and seamless process I greatly appreciate it.shout out to Kevin Johnson and Nathaniel Beebe
Very professional operation and a very pleasant experience. The emanates provided to Andersons guests are fantastic. Snacks of all kinds and beverages make the wait worth the time. And the "fun zone" excellent. Thank you!
I have had nothing but terrific customer service each time I come and Kenny goes over everything efficiently with me.
Courteous and prompt service. Nice people to work with
10/10 experience Austin was super helpful and explained everything super clear which is great since I am a first time buyer.
Everyone I came in contact with at Anderson Toyota was very friendly, informative and helpful. Jericho was my sales person and I appreciated his honesty and knowledge about the kind of vehicle I needed. I am very pleased with my purchase and know I can count on this dealership for great service.
Jasmine is a phenomenal saleswoman! She was incredibly knowledgeable and helpful to us when purchasing our 4Runner. John was also great and very patient. We really appreciate your dealership holding our vehicle for us while my husband was on a military exercise in the mountains. I highly recommend this dealership, they gave us a wonderful amount for our trade in and the deal was done super fast ! Thanks again Jasmine and John.
Was a pleasant experience. Having my durango service. All the staff I came in contact with was very pleasant. You well be seeing lots more of me.
Came in to see Josh due to a recommendation from a friend. Josh greeted me warmly and introduved me to Brian. Brian was/is awesome!! He listened to my wish list, he understood my situation and was willing to help, knowing I wouldn' t purchase that first visit. He let me look at online inventory over the week, did NOT blow up my phone, brought in vehcles from other locations for me to test drive, ALL with no pressure. There was no " If you don't get it today, it may not be here tomorrow" or ANY other ...
Pro Great lobby with snacks and entertainment. Shuttle service Con Brought my 22 Camry with extended warranty in due to an oil notification, which wasn't fixed the first time through. Brought it back and it took 6 hours instead of the 90 minutes they estimated. Cost me $400 in labor to replace the oil sensor. I'd recommend a local shop if not under warranty due to delays when not paying attention to details and high hourly rate.
Very good service and very friendly and very timely. An excellent experience
Red carpet treatment all the way!! Stellar service!! Very professional!
Seema is a great service rep, she is thorough and very knowledgeable. Thank you Anderson Toyota for such a great service department
Everyone was so nice, no pressure. Very informative and believe me I asked 1000 questions. They answered every one of them. A great bunch of guys.
Great service. Thank you!
I only gave three stars. My husband, Paul and I bought a car a couple weeks ago. The entire experience was fine, except for our person of contact. He kept trying to give my husband deadlines to get the deal done. It almost seemed like he didn't want his portion of the money he was about to make off the sale. I'd come back to Anderson, but I would request a different rep.
Great salesman the price they gave me was the same when I got to the dealership. Very happy
Service team addressed my needs promptly and with courtesy. Appreciate the quick response.
I went in to look at a Corolla cross, and left at the end of the day with a brand-new car! Robert was amazing and walked us through this process, along with all of the other people. I would highly recommend doing business with Anderson auto group for anyone looking for a brand new car.
Thank you for the great customer service and support!
Easy to work with Pressure on coverages..but they all do that Rate to finance is outrageous..if I wasn't paying it off I'd pass Overall good experience
Neat place only that the office where the advisor (service advisor) meets patrons is cramped! Upbeat place! Juan and Wade are/were courteous (and I don't compliment lightly)! The overall space are pleasant to be around. Ample space to wait around for your vehicle to be done. I would and will come back to this place for my Toyota Vehicles needs as long as I'm treated (and my Toyotas) well. Note: My family and I have been A SOLID Toyota patrons for 22 years now! Saying so is to say that not ALL TOYOTA DEALERSHIPS, including Hawaii, are the ...
This was a stress-free top-drawer experience from start to finish. Everyone went the extra mile to explain the process, chase down details and get us what we preferred in a vehicle. They were friendly and professional.
Great service no pressure selling answered so many questions and took the time so I could make a informed decision on what vehicle to purchase based on my lifestyle and needs
As usual, Jose and his team performed perfectly!
They have always been very fair with us and are very honest. I cannot say enough about the staff there! Wow!!! They are generous and kind. Josh, Brandon (now at Chrysler) Keith, and Jazmin, you were amazing in the dealing of our 23 Sequoia. We love it.
Kenny takes great care of the customers, communicates and does efficient work
Professional and courteous.
Nice people to work with always very helpful
Honest and very professional
the attention given by all staff.
Great experience…literally bought a new truck over text…went and signed papers and was in and out in 40 minutes. Super easy experience. Anderson auto group is top notch.
Great customer service and prompt servicing. Great communications.
Jose in the service department went above and beyond when I had to bring my Jeep Cherokee in because of a problem with my air. He checked on me to see how it was doing, even while he was on vacation! Now, that is customer service!!
Anderson was amazing to deal with especially the salesperson Kalen. She was awesome. Very informative, thorough, helpful and responsive. Love my new truck.
Was awesome that they donated trucks to support the schools in the parade..Anderson always helps our community!!!
I have a good and trustworthy Forex account manager that allows me to withdraw my trading profits anytime I want and I can monitor everything going on in my trading account when she is busy trading with her expert team and I don't have issues with pending withdrawals. I must admit that she is very honest and diligent in her work. I have no way of thanking her than letting people know about her services and recommend her for everyone to trade on her platform. she is 100% accurate and up-to-date. Kindly contact her. Email: [email protected] WhatsApp +13022133142
Wade Dewitt was our sales associate and he was so knowledgeable, kind and on point. It was a great experience and we will definitely be back soon to buy my husband his forever Tundra!
Hats off to Anderson, another service done quickly.
Service took me in on time. The rep.serma(can't so egg ll) was very informative . Brought my car in at 7:30and got my car at 8;05. Great service and the rep. Explained everything that was done to my ch-r The service was extremely professional.
We're snowbirds from Minnesota and this was our first experience here. The service was exceptional. They went through every component of our vehicle with us. We learned more about our car than when we bought it 6 months ago. Seema is so awesome and friendly. I couldn't believe how knowledgeable she was. And the waiting room! Oh my gosh! The snacks they offer is unreal. We will definitely continue to come here when we are here for the winter
I had a 7:30 am appointment for a recall. They opened precisely at 7:30 and had me in and out a 7:45. Very happy with the staff and quick turn around.
---