Customer Testimonials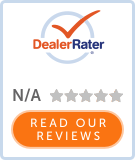 Great experience at service center. Kenny is the bomb. Took care of all our service issues with our vehicle. Very insightful and knowledgeable. Explained everything from the start to finish and kept us informed along the way. Highly recommend him'm
Great service as always. Thanks Mike
The visit for maintenance was thorough and efficient, a job well done Thank you Jennifer in the Service Department
Superior in every way. More like family, See Kieth, David and Shannon.
All service work has been timely and staff has communicated in a friendly, clear and concise manner.
Awesome team, very knowledgeable and accommodating. I bought my last vehicle here and was very satisfied. There is no pressure to buy, they have a very friendly attitude, and offer food and drink while you wait. When I service my vehicle here it's awesome service as well. Big shout out to both Jon's that helped me today. You guys are great salesman!!!
Polite workers slow service.
Excellent service, as always. Through and extremely helpful.
Had a very good purchase experience and the service department was very professional.Service advisor Kenny and Parts and Service Director Joe were very helpful in solving a warranty issue
Easy purchase and very helpful and friendly staff. Couldn't be happier.
Always a pleasure to deal with. Would use them everytime to purchase a vehicle as they give the best deals on used and new vehicles anytime.😉💖💗👍
The staff is awesome, organized, understanding and helpful. Jose thank you for the awesome service appointment !
Took all day long, but it was eventually fixed and was covered under the warranty. Hard to believe that a hybrid's battery could go bad after only 2 years and 5000 miles! I bought a Toyota hybrid because they have been making hybrids for so long, hopefully it won't happen again.
I can recommend you to Mrs Edna Albert, ever since I have been trading with her brokerage company I could be able to invest on binary/forex investment I deposited $1000 on my trade while Mrs Edna Albert handle my trade and trade while I watch my profit as it grows within 7 days I got a profit of $13,950 on my bitcoin wallet here is her contact below Contact now on Email: [email protected] WhatsApp +13146498594
Amazing as always. I didn't have to do anything. Jose in service handled everything including the communication with my insurance. Thank you for always being there with all my vehicles.
I had an appointment to drop off a vehicle after hours at Anderson Toyota in Lake Havasu city Arizona and they were supposed to be drop off envelopes for me to put my keys and name on and drop in the after hours dropbox unfortunately they had not restocked envelopes for the dropbox but as luck would have it they were still open and a salesman took me to a customer service agent who handled everything wonderfully and the experience overall was good they texted me periodically regarding my vehicle. No complaints. My vehicle was in to have two safety ...
Everyone was extremely friendly and Jon, Dave and Shannon were awesome to deal with. They all made sure everything was to my satisfaction. I recommend this dealership for all your Toyota needs.
Associates are polite, efficient and helpful. All work is explained and options provided. Also great free snacks while you wait!
Great customer service, very helpful and worked hard to ensure that I was satisfied with the purchase of my vehicles.. Kalen was totally awesome to deal with!!!
I was totally pleased with Anderson Toyota Service Department. Everyone from the young lady that checked me in to the Service Advisor Kenny that wrote up my request. They were both friendly and yet professional. I felt the prices were reasonable for normal maintenance work. I will definitely return as needed in the future now that I live in Havasu full time. Thank you for making it a pleasant experience!
Great service and friendly atmosphere. Glad I had to stop. I really appreciate the great people who got me back on the road. Keep up the great work 👍
The sales department (Jonathan Barrell) sold us our Rav4 LEX Prime. He was very attentive as well as eveeveryone else involved with our sale
Kalen was amazing super friendly. I came in at the end of my lease kinda feeling anxious and stressed out, not know how long this process would take but Kalen was super cool and explained everything to me and help me ease my mind. Thank you guys
I was so happy when I was able to drop by in the afternoon to get my 10,000 miles service. Even got a free truck wash. Thank you
This was such a great car purchase experience. Everyone that we spoke to was just so pleasant and eager to answer all our questions. We never felt rushed or pressured into anything. I am so happy with my new car, my experience and all the people who helped us at Anderson Toyota. We will definitely be back for future purchases as well.
Sema was my contact in service and she was great. I needed some information about further services for my Toyota and she gave me all the information I needed. The woman, Caroline Sullivan I believe was her name transported me home and pick me up when my truck was ready Anderson Toyota gives great service and I recommend them to anyone that drives a Toyota.
I was able to schedule service for my car at a time convenient for me, the person I spoke with was very polite and friendly. I was greeted as soon as I got out of my car, was able to speak with someone about my concern. They were addressed immediately. The staff stayed in contact with me during my entire visit, offered me a ride anywhere I wanted to go. Recommended place to eat if I was hungry. Waiting area is equipped with activities to help make the time pass quickly. (Air hockey, basketball hoops, arcade game etc) A variety ...
I'm very happy with both the services and personnel at Anderson Toyota. They see to your every need while your vehicle is being serviced.
Very helpful staff. They gave me a ride to work and helped me with info to get tires.
Always quick and very helpful everytime I go in...
Love how caring and professional the service department is.. Answered all my questions and communication was great
The staff was very helpful & courteous especially Jay Johnson. Between Keith, Jay & Enrique they were always on top of everything. They were polite and made sure that you were their main concern. They answered all of your questions. If I could I would give Anderson Toyota, Lake Havasu, AZ a 10 star rating!
Friendly and helpful willing to work with you and don't treat you like just any Joe Shmoe. Would go back and buy from them again.
Amazing service and great salesman! Highly recommend
Tommy and Kevin are awesome!!! Made the process super easy.
The cashier, Pam was awesome!
Lacey is always so helpful and explained everything that was done to my Rav4 while it was there. Highly recommend her as a service advisor!
Mike keep me up dated on what was going on with my vehicle. Truck was washed and returned to me in great shape.
I first of all recommend Seema Weaver as a rep. She gives her all. Appointment was at 8:30 and I was out by 10 with a car wash. Good service.
Great Service Staff. Fair prices. Quality and Quick service. Highly Recommend!! Thanks Mike always a pleasure dealing with You
They did an awesome detail cleaning on my new Rav4 TRD.
The best group of service people there is. They treat you like your special. There very professional ,kind, courteous and they care. They go above and beyond to make sure your happy and answer all your questions. They get the work done in a timely manner. While you wait they provide different kind of drinks n food and ice cremes, all free. That's a treat in itself. There's games to play free to keep you entertained while waiting and even USB plug ins where you sit to charge your phone or whatever. Mike Busby is one of the ...
Quick. And helped me with the radio Bluetooth stuff!
Excellent service by all employees while purchasing a new vehicle, from walking in the door to getting my vehicle delivered to me.
We have been coming to this dealership since 2019. On March 10th we came in for oil change and fuel induction service. We can have always had the best service here. Our service advisor, Jennifer Clafli, always has great knowledge of our auto (2013 RAV4) She gives us great advice on how to keep our auto running smoothly. We use to not have a dealer do service on our auto's. But Anderson Toyota and Jennifer keeps us coming back. Thank you.
Mike and the entire service department are the best, most efficient and kind people you could hope to work with. I drive from California just to have my car serviced because they are the best!
Excellent service! Wish we had service like that back home!
Always love dealing with Anderson Toyota. Thank you Marc, Kalen, and Keith for always making our experience with y'all amazing. Highly recommend to anyone. They care about the people in there community and to the ends of the road.
Great dealership, everyone was helpful, really no pressure & we love our new car!
I usually have my RAV4 serviced in Oregon, where I live, so I was pleasantly suprised to discover that this location offers loads of free snacks, beverages, wifi as well as a complimentary car wash. I was able to have a receiver hitch installed along with my 20k service within a few hours.
Prepared, fast, friendly, informative
---