Customer Testimonials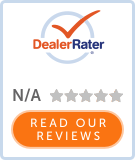 Service, friendliness, knowledge
Thank you Anderson Toyota for your quick, friendly service.
We like Jennifer who helped us during the maintenance. My husband and I enjoyed the snack bar while waiting!
Fantastic service!! Friendly, helpful. Just great. Wish they were around Ohio.
pricy , but you know it's done right
Jamil was extremely knowledgeable and helpful with questions concerning this purchase. Very friendly and great customer service all around!! I would recommend this dealership to anyone looking to purchase a new or used vehicle.
Excellent customer service. I bought a new 4Runner here and the process was easy, painless, and fairly fast.
Great service. All personnel were very helpful and friendly. The car wash was a big plus.
Always a great experience at Anderson Toyota of Lake Havasu!
The service at Anderson Toyota is very professional and excellent with service advisers like Lacey and Mike. I highly recommend them..
Best customer service of any dealership I've been to. Smart knowledgeable staff that keeps you in the loop and knows what it takes to keep your vehicle running in top form. 5 stars for sure
We were in and out of there in an hour cat washed !
The best service and knowledgeable technicians! Lacy in service really knows her stuff and is awesome!
Great service! Recently moved to the area and needed regular service for my Scion. Staff was very friendly and explained everything. Very nice waiting area.
Everyone there knows what there doing ! There courteous and very helpful Jennifer is on top of it !!!!!
They knew the car we wanted and worked hard to find us one.
Always great service. Special thanks to Kyle in service department.
The best Customer Service ever.
Great service, timely shuttle, good snacks, and courteous staff. Even if it takes half a day they make it as painless as possible.
Went in for routine maintenance, they gave me great tips and advise, things I should do and keep an eye on but didn't try to pressure me into purchasing something I didn't really need. Plus they got me in and out in a timely manner.
Great customer service. Quick turn around. I love bringing my vehicle to these guys because they treat customers right. Keep it up!
Todd Markham and Kevin were incredibly great to work with getting my new truck! If I need another vehicle I'll return with no hesitation!
Nice experience, during a stressful situation. Love my new Highlander. Everyone was very nice. Kalin was great and knowledgeable… thank you
Fast,Efficient and Friendly
They are easy to work with. They don't jerk you around. We felt very comfortable dealing with them. They are honest and answer any questions you have.
Great service and kept me well informed as to my cars progress.
Pretty smoothe operation over there.
Well organized and clean experience as well as an entertaining area for the kiddos that need to tag along. Lacey is very proficient for all maintenance needs
Great service, the staff was really friendly and they showed great hospitality with snacks and drinks and comfortable seating while I waited for an oil change
We got our new 4 Runner we love it and everyone at Anderson Toyota was great to work with…if your looking to get a Toyota go to Anderson Toyota in Lake Havasu City Az ….Rissa loved the dog treats🐕‍🦺 … Thanks Again 😎
Anderson bailed us out of a tough spot. In an afternoon of automotive crisis they made certain disaster a minor inconvenience by provided outstanding customer service and top quality maintenance. Our sincerest thanks to Jose and the Service Department who quickly diagnosed the repairs and to the Rental Car department who miracled a car for us late on a Saturday afternoon. We got our trusty old Prius back (now our daughters college car) today and one inverter cooling pump later it's as good as new. You never want your car to break down in the desert, but if it ...
Great experience!!! I live out of state shopping for my son who lives in Lake Havasu. Brandon and Todd made it a easy painless experience. At the same time got a GREAT deal!! Thanks to both Brandon and Todd! Will definitely shop here again!
Service was great and friendly! We were out of vacation and fuel pump went out. They had us up and running in under 2 hours including taking care of any recalls.
Todd and Matt were both a great help and made the whole process surprisingly simple and hassle free. All promises were honored and all of the staff were incredibly pleasant to work with.
Definitely recommend getting your headlights restored/cleaned. They did an amazing job for an incredible price. Thanks for making my car look new again and being able to see at night lol.
The staff are professional and so very pleasant. They kept us informed of the progress and we were very happy with the amenities. We appreciate their making appointments for us in advance and their wonderful attention to detail.
We went to Anderson Toyota for transmission service on our 2007 Tundra. Jose was helpful in getting us in and out as promised. The price we paid was actually less than the estimate...by 3 dollars! Only complaint was greasy foot prints on our step, floormat and carpet. Otherwise it would have been 5 Stars.
Always friendly. Love their waiting area.
Had a great experience purchasing a used truck that was exactly what I was looking for. Was treated well by everyone at Anderson Toyota that I came in contact with.
My appointment was at 8:30am this morning. My car was taken in on time. I was kept informed. Left there being 100% satisfied with everything. Excellent service by all
Thanks to Anderson Toyota for keeping my vehicle in top notch condition. Anderson provides quick, reasonable service.
Great service and customer care. I was treated as though i was the only customer in the place.
Awesome staff! No pressure no hassles. Service department is amazing! Thanks Mike!
Great experience, no pressure and happy with my purchase. Ask for Mark, who is very honest and knowledgeable about what he sells. A+++ experience.
Awesome service! Just the best humans working in car sales. I had the best time purchasing my new truck! Matt my salesman was fantastic and my buddy in finance (sorry can't remember his name 😄) is the best. Always have liked this dealership. My second purchase. Thank you to all whom helped. Love my new truck!!! 🙏🙏
Good customer service and friendly. Cody did an amazing job and the staff was the best!!!
Excellent service for our first service appointment with our Highlander - great snacks and even games to pass the time if you wait for your vehicle
Amazing service as always!
First time there. Jackson in parts was great. Must say the lobby was so well set up for customers with things to keep you busy while waiting plus the best ever snacks ,drinks and so many places to relax and wait. Busy as hell not cheap but I'd buy a car just for the lobby things
Staff was very friendly. Had a gas splash issue when I get gas. Was surprised Toyota charged me for the gas to try to duplicate the problem.
quick service. good expierence
The service department provides excellent customer service! José is very professional and personable. I appreciate all they do.
Just bought a 2021 Toyota Highlander. Love it already. My wife and I had a great experience at this dealership. Everyone is so friendly and helpful. Kevin Johnson worked with us on the deal until we were completely Satisfied.
Got me in fast on short notice.I got the Royal Treatment , great place to do business 😁
Super nice the receiving she was outstanding 10 ⭐️ ⭐️
---